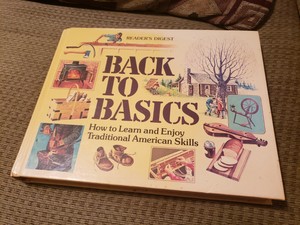 Buy Now
ebay.com
Description
About this product Product Information With so many urban and suburban dwellers moving toward simplifying their lives, Reader's Digest has updated its popular Back to Basics series to provide the ultimate how-to book. It's packed with hundreds of projects and illustrated step-by-step sequences to help you learn to live more self-sufficiently, with sections on shelter,...
User reviews
Great book full of excellent information. Lots of detail and beautiful illustrations. Product shipped exactly as described. Was in excellent condition for a 40 year old book. Still has the reader's digest mail-in ads in it!
I gave my book to a friend so I had to make sure I got myself another one. A great book to have in your library. Essential skills for living like people did back 100 yrs ago when there wasn't any electricity or big chain grocery stores. I took a picture of the table of contents so you can get an idea of what this book contains.