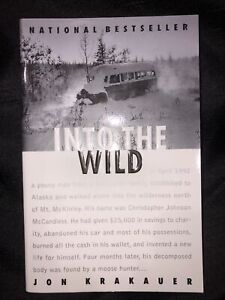 Buy Now
ebay.com
Description
About this product Product Information Krakauer's page-turning bestseller explores a famed missing person mystery while unraveling the larger riddles it holds: the profound pull of the American wilderness on our imagination; the allure of high-risk activities to young men of a certain cast of mind; the complex, charged bond between fathers and sons. Terrifying... Eloquent... A...
User reviews
Krakauer's original 1993 article in Outside Magazine was the first full length piece on the life and death of Chris McCandless. The book expands on the article and our knowledge of Chris's life and how it impacted his choices. He interweaves events with the unique attributes of the the mind/soul/body of this tragically driven young man and how this collided with society and, ultimately, the hard facts of surviving in the Alaskan woods. He does not play psychologist or judge. He lets you decide. Therefore if you invest your time and thoughts into this book you will find it compelling. Krakauer is a wilderness writer who is also very well read in the classics. His lead quotes from other authors (including those who inspired Chris McCandless and whose works were found with his remains) tie in thoughtfully & beautifully with each chapter. His own writing is at times strongly poetic without tipping over into mawkishness. He takes us back in time to similiar young Americans who met their deaths answering the call of the wild and tell their strangely riveting stories. By all means read this book, preferably before you see the movie. The movie, as movies do, tends to hype certain things, invent others, and overall lacks the depth and resonant beauty of the book.
This book was chosen by my book club. It's not a book I would have chosen myself, but I did enjoy it. I'd seen a story on McCandless on CBS' Sunday Morning some time ago so I was familiar with the story - or so I thought. It was interesting to get more information about him. So much has been speculated about his motivation for what he did. And although the book does not have definitive answers, it did prompt me to reflect on my own motives for choices I have made. The book club members' opinions on the book (and on McCandless)were clearly divided. Some didn't like the book or the young man. They were highly critical of his choices. Others, like myself, saw a bit of themselves at that age, or maybe someone they knew. Either way a provocative story that will, at the least, provide many opportunities for discussion.