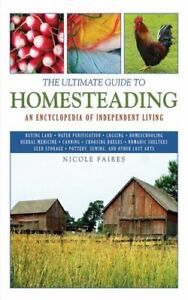 Buy Now
ebay.com
Description
About this product Product Information This practical guide to independent living offers everything readers want to know about self-reliance, preparedness, survival, and sustainable homesteading. Product Identifiers Publisher Skyhorse Publishing Company, Incorporated ISBN-10 161608135x ISBN-13 9781616081355 eBay Product ID (ePID)...
User reviews
I has previously checked out this book at the library as it is very rare that I actually buy a book these days. I found it so informative as far as living a "homestead" life that I had to purchase a copy to keep on hand. It's simple in format and for those interested in growing your own foods, farming, using natural means to raise your family, this is a good book to have on hand. I gave it 4/5 stars because while it is very useful, the subjects it covers seemed a little willy nilly (as in all over the place), not following a consistent theme. However, lots of great photographs throughout book and I highly recommend.
I loved every bit of this book and will find it a very useful tool in our future homesteading adventures. Nicole is a VERY nice person as well and so eager to help with any and all questions. I am so happy she updated her older version with photos and more info! It's an invaluable resource.