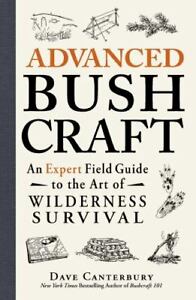 Buy Now
ebay.com
Description
About this product Product Information Trek deeper into the wilderness with New York Times bestselling author Dave Canterbury! In this valuable guide, survivalist Dave Canterbury goes beyond bushcraft basics to teach you how to survive in the backcountry with little or no equipment. Using the foundation you learned in Bushcraft 101 , Canterbury shows you how to completely...
User reviews
Advanced Bush Craft takes wilderness skills to a new level. It thoroughly explains the nuances of life in the woods where we work to "smooth it" and live with the environment. The chapters are easy to read and the diagrams easy to follow. These are skills that should be taught in schools and experienced by kids and adult on the weekend. I have gone through this book a few times and still find myself picking it up to refresh the skills I don't always use. I would give it 5 stars out of 5! Sno Dawg - Jeff
Great book. Concise, informative, easy to read and understand. May save your life in you memorize it or bring it along on your trips.