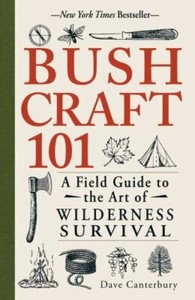 Buy Now
ebay.com
Features
Format: Trade Paperback, Paperback
Genre: Travel
Language: English
Number of Pages: 256 Pages
Topic: Reference, Camping
Author: Canterbury, Dave
Publication Year: 2014
Book Title: Bushcraft 101: A Field Guide to the Art of Wilderness Survival
ISBN: 9781440579776
EAN: 9781440579776
Description
About this product Product Information "With advice on not just getting along, but truly reconnecting with the great outdoors, Dave Canterbury's treasure trove of world-renowned wisdom and experience comes to life within these pages." --Bustle A New York Times Bestseller in Sports and Travel! The ultimate resource for experiencing the backcountry! Written by survivalist expert...
User reviews
Great book for starting Bushcraft. Well written by an a man who knows his stuff. There is also something that an expert can learn from.o Dave Canterbury is one of the best.
If you are new to bushcraft and survival, this is a good beginners guide. Many basic survival skills are covered. Not very illustrated if you like pictures. If you are a seasoned survivalist then you should probably just move along.