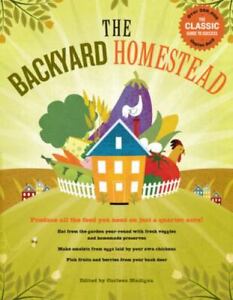 Buy Now
ebay.com
Features
Format: Trade Paperback
Number of Pages: 368 Pages
Language: English
Author: Madigan, Carleen
Publication Year: 2009
Book Title: The Backyard Homestead: Produce all the food you need on just a
ISBN: 9781603421386
EAN: 9781603421386
Description
About this product Product Information This comprehensive guide to homesteading provides all the information you need to grow and preserve a sustainable harvest of grains and vegetables; raise animals for meat, eggs, and dairy; and keep honey bees for your sweeter days. With easy-to-follow instructions on canning, drying, and pickling, you'll enjoy your backyard bounty all...
User reviews
This is an excellent introduction to home grown food production. The sections on gardening list vegitables individualy with planting times, seedbed preperation, fertilizer requirements, harvest, storing/preserving, and even some preperation. It presents an "organic" viewpoint with out being dogmatic about it, offering advice on chemical fertilizer when needed. It offers good advice on choosing proper varieties of fruit and nut trees for your area, varieties of trees to get good pollinization, and where and how to plant them. There is a large section on various berries with how to grow and propogate different plants. The section on grains tells you how to grow your own wheat or other grains, but it also tell how to grind and use the flour.You can use this information even you don't grow your own and simply buy grain directly from a farmer for a few dollars per bushel. It also includes recipies and baking instructions. If you are interested in using your grain for "liquid bread" there is a chapter on beermaking. Ther is a chapter on herbs with many varieties I had never even heard of with instructions on how to grow them, preserve them and use them. The chapter on poultry guides you in choosing the proper breed for your use,(eggs, meat, or both). There is plenty of information on raising, feeding, caring for, and housing your flock, right down to building a coop. There are also chapters on small and large livestock With information on raising animals for meat, milk, and making cheese and yogurt. The book gives you an idea of how much ground is required for your needs and wants. Finally the book contains a complete index, a list of resources to find more information,and an appendix with hardiness zones and some state and local laws. There is much more information here than I have listed. I first checked this book out from my local library and then decided to buy it so I could have it as an onhand reference. This book is a must for anyone wanting a healthy, self sufficient food supply.
This is a great book to add to your gardening bookshelf. I reference this book every spring. I use to get it from the library every year until it dawned on me that it is one that deserves to sit on my bookshelf. I purchased it and I'm glad I did.